The patent war between Apple and Samsung has just gone to an end. Samsung is sentenced to pay $1.05 billion for violating 6 patents of Apple. In fact none of the 6 patents is core technology, like 2 fingers to zoom in (said to be first introduced by Microsoft) and round-corner icon. Anyway, Samsung has learnt a lesson, the new
ATIV Table
t could be a signal.
Samsung ATIV Tablet is claimed to be the first Windows 8 tablet. Windows 8 OEM has been distributed to some manufacturers before, but it will not release until this October, so does Samsung ATIV Tablet.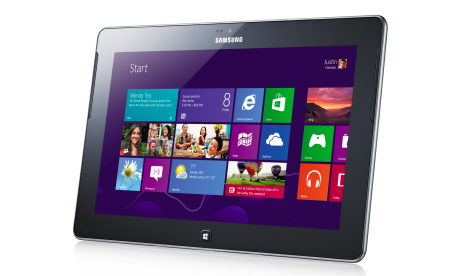 Equipped with Windows 8 RT system, Samsung ATIV Tablet looks really great, due to the Metro interface and Samsung's own appearance design. It runs Windows RT, so the tablet is powered by ARM processor undoubtedly. Though you cannot enjoy full range of desktop software on this RT version Windows 8 tablet, the availability of Office Home and Student 2013 (so Word, Excel, OneNote and PowerPoint) will make Samsung ATIV Tablet a strong hit for business and education.
The Samsung ATIV Tablet is also called ATIV Smart PC, with a keyboard dock, similar to Asus Transformer Series. The Samsung ATIV series are concluded with another two products one smartphone and Samsung ATIV Smart PC Pro.
Samsung ATIV Smart PC Pro is running on the real Windows 8 system, like the Microsoft Surface Tablet Pro version. Below is a brief comparison between Samsung ATIV Tablet (Smart PC) and Smart PC Pro.
| | | |
| --- | --- | --- |
| Specs | ATIV Tablet (Smart PC) | Smart PC Pro |
| OS | Windows 8 RT | Windows 8 |
| Processor | Dual-core 1.5 GHz Snapdragon S4 | Intel i5 |
| RAM | 2GB | 4GB |
| Body thick | 9.9mm | 11.9mm |
| Screen | 10.1-inch 1366x768 | 11.6-inch |
| S-pen | Yes | Yes |
| Battery | 13.5 hours | 8.5 hours |